PFL provides netting and decking systems as a new alternative for scaffolding for under deck maintenance operations.
The system is installed 10 times quicker than the conventional methods and it's more cost effective.
The Client benefits from shorter lead times and reduces the deck and bed space requirements.
The system complies to the BS and work at height regulations from the UK. The system is designed and installed towards the same regulations and specifications as scaffolding and can take a maximum of 3Tn per square meter SWL.
Each project is carried out to stringent procedures and all designs and engineering is done through third party specialists.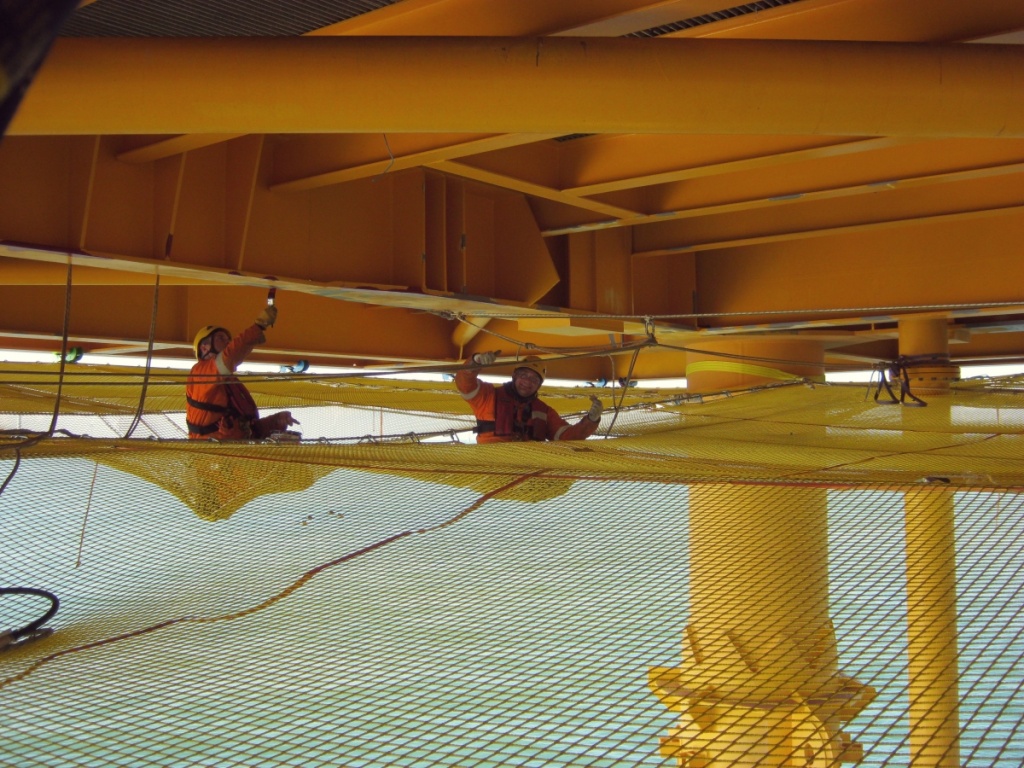 Characteristics
Rigging paperwork
Certificates of Conformity
Test Certificates
Proof Load Test
Identification Certificate
Decking
Establishing full compliance
Working on Accreditation
Auditing Suppliers
Scafftag Equivalent
Systems meet UK HSE standards
Work at Height Regs. (2005)
Lifting Operations & Lifting Equipment
Regulations (1998)
Manual Handling Regulations
Use of Working Equipment Regs
Relevant BS Standards
Product Safety Features
WEB Tensioner Avoids Overload
WEB T- Clamp Safety Redundncy
Interlocking Mechanism in Deck
Very Strong 2.1m Decks I
Very High Tensile Strength Net
Knots in Net for sure Footing
All Products Flame Retarded
Benefits
Installation time reduced by up to 90% compared to scaffolding
Much safer to install
Fewer WAH hours
Rope Success Intrinsically safer
Lower cost of labour
Better Coatings Finish
Reduced transport cost
Reduced storage cost
Lower access cost
Reduced stand-by cover